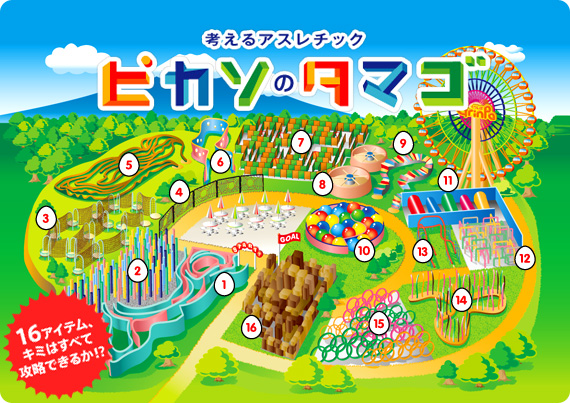 Undulation Screens

Slip through the gaps between walls.
Narrow Forest

Find your way out of this forest of pipes?
Net Cave

Go steadily through the nets like a ninja!
Spider Climb

Walk through the spiderweb wall efficiently.
Bran Branch

The paths start branching off. Try not to fall as you walk along.
Warping Wall

Go through the tight way by side stepping.
Pretty Maze

Can you find your way out of this labyrinth?!
Ecoloslave

Push against the round wooden log move forward!
Wave Rider

Can you get all around this jagged, and bumpy staircase without falling?!
Thrust Bomb

Move the balls to find the hidden goal!
Slip Crown

Climb onto and slip down from this round logs. How far do you think you can get by dashing along?
Piping Walking

Work your way forward over, around, and through this jumble of pipes. If you search hard enough, you just might find a shortcut...
Unbalance Beam

Can you get all the way across this meandering, winding road?!
Winding Rail

Pass around the twisty pipes to move along the path!
Bubble Through

Try to find loops big enough to slip through as you make your way through the course!
Rock Cluster

The blocks bar your way! Will you make it through, or be lost forever...?!
Obstacle course is a series of challenging physical obstacles. Use both your brains and body while having tons of fun! A new type of obstacle course with a colorful color scheme and strange and unique format based on the concept of "how to move forward on your own!"
An original course with athletic-types, balance-types, labyrinth-types, etc. of attractions that help you develop your imagination and athletic ability.
Located the skart of Mt.Fuji. We are looking forward to your coming and playing with your family.


Fee

400 yen *One-day coupons accepted
Qualified Age

Aged three and up (by a guardian)
Duration

About 1 hour.
Number of Courses

16
Located

Next to Ferris Wheel
Area

About 6,000 ㎡
Amusement Park Zones
Ferris Wheel

The Ferris wheel located at the highest elevation for any Ferris wheel in Japan
Dazzem Cars

Watch out for collisions! Have fun riding and zooming around!
Merry-go-round

A strange and amazing merry-go-round where you can ride on lots of different animals
Miniature Golf

Have fun playing with your family